Онлайн магазин
Исследуй мир Dilmah
Dilmah в сфере гостеприимства и общественного питания
Целостность и этика
Вдохновленные чаем Dilmah
Досуг и гостеприимство
Знания и обучение
Онлайн магазин
Business as a Matter of Human Service
Dilmah: The tea inspired Journey of a Truly Sri Lankan, Truly Sustainable Brand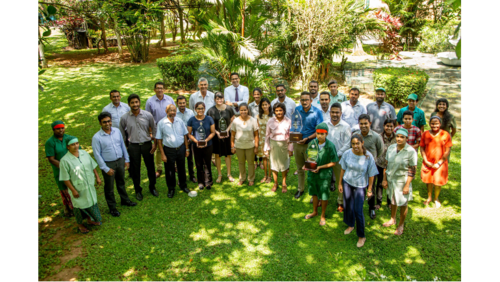 Dilmah Founder Merrill J. Fernando's belief in the purpose of business is reflected in his philosophy that 'business is a matter of human service.' He embedded that into the foundation of his business when he launched his brand and began a multi-generational and uncompromising commitment to a new way of doing business. When Dilmah was first born in 1988, it was the first time a tea grower had offered his produce to the world, direct and genuinely ethical. The paradigm shift that Dilmah represents has delivered over Rs. 5 billion of humanitarian benefit through the work of its MJF Foundation, and over Rs. 500 million for Dilmah Conservation's environmental interventions.
Dilmah Tea was awarded the Best Corporate Citizen Sustainability Award 2020 by the Ceylon Chamber of Commerce, with their independent panel of judges assessing the company's commitment to quality, tradition, customer, employees, innovation, ethics, integrity, and sustainability. As a family-owned tea company, the sustainable development of Dilmah's plantations – its community and environment – is integral towards creating long-term value. Currently, residents of 16 estates in Kahawatte plantation, 16 estates in Talawakele plantation, 13 estates in Elpitiya plantations, and Dunkeld Estate have benefited from initiatives related to healthcare, housing, infrastructure, and education. The Dilmah Plantation action plan for 2021-2025 is a Rs. 200 million initiative embracing education, entrepreneurship, climate resilience, nutrition, childcare amongst other areas.
Merrill J. Fernando is an ordinary Sri Lankan and his achievement in founding a company and integrating principles of sustainability into its core at a time the world was yet to understand sustainability, was visionary. The viability of a business today depends on using resources from healthy ecosystems and on the stability of a just society. To ensure that economic, social, and environmental sustainability exists at the heart of its operations, Dilmah established the Merrill J Fernando Charitable Foundation (MJF Foundation) and Dilmah Conservation to drive life-impacting initiatives ( 'Purpose Beyond Profit' is a free e-book, giving an overview of the overwhelming impact made through the two organisations)
The MJF Foundation works directly with estate workers and underprivileged communities to uplift lives and empowers them to pay-it-forward to their communities. Some of its core initiatives are the countrywide MJF centres, small-medium enterprises with over 2,000 small entrepreneurs, 'Empower' Culinary & Hospitality school, and 'disABILITY' teletherapy app. The MJFCF scholarship programme has currently awarded 425 scholarships including 262 scholarships for university education empowering children in plantations to enter University and has succeeded in producing doctors, lawyers, architects, engineers, and several other professionals. The Foundation has improved the quality of life for plantation workers, residents, and the surrounding communities by establishing new housing, medical centres, and care for the entire resident population of the estates, pre-schools at 63 Child Development Centres, after-school programmes, and nutrition programmes.
The sustainable development of the plantations and people cannot be separated from the environment. Tea plantations situated in Sri Lanka's wet zone region are among the first places expected to be impacted by climate change. Focusing on conservation efforts that will directly benefit the environment, people, and wildlife that co-exist with them, Dilmah Conservation (DC) influences over 8,000 new individuals to adopt environmentally friendly practices each year. DC is keen on providing nature-based solutions and has delivered 12 such initiatives. Among these are the recently concluded one million cashew planting that annually feeds Rs. two billion into Sri Lanka's Eastern economy, energy usage reduction initiatives, organic practices that increase agricultural productivity of the lands, construction of nature corridors that increase the biodiversity of Dilmah's estates, green recovery programs for plantation habitat revival, and use of smart tools such as resource-efficient hydroponics for sustainable agriculture. The reach of Dilmah's environmental arm extends beyond Colombo to include several initiatives that are among the first to be established by a private company such as a dedicated climate change research centre, urban arboretum, and open-air butterfly garden. As a commitment to a truly sustainable vision, Dilmah Conservation has further blazed a trail in the corporate sector by promoting sustainable beekeeping, home gardening, climate-smart irrigation, and diversification of monoculture with a key focus on educating the public.
Understanding the importance of SDG 17: partnering for sustainable development goals, Dilmah has pioneered and led the way in corporate advocacy, engaging the corporate sector towards building a better planet through its initiated Biodiversity Sri Lanka - a national platform that aids businesses in finding solutions to adjust their activities to ensure fair income and sustainable growth while benefiting biodiversity and ecosystems. Dilmah further complies with UN Global Compact Guiding Principles, embedding them in its business strategies.
The 2021-2025 Dilmah Plantation Action plan will revive the plantation community in 16 Estates that form a part of primarily Dilmah-owned Kahawatte Plantations, Talawakelle, and Elpitiya Plantations. The action plan will bear a holistic framework aimed at elevating the community members' physical, mental, and emotional well-being and socio-economic status. The areas of focus are gender and women, youth, education, health and wellbeing, sanitation and hygiene (WASH), climate-smart agriculture including agroforestry, adopting Nature-Based Solutions (NBS) as plantation best practices, water, climate change, livelihoods, and entrepreneurship. Over 138,415 people in the plantations are expected to benefit from the programmes.
Winning the Best Corporate Citizen Sustainability Award 2020 is considered a top honour in the Sri Lankan corporate field. Each year, submissions are evaluated by an eminent panel of local experts, thought leaders, and academics. The tea company further won category awards for Customer Relations, Environment Beyond the Business, and was chosen as one of the Top 10 Corporate Citizens of Sri Lanka. It was also a proud parent moment for Dilmah as Rainforest Eco Lodge, a venture initiated by the company, was awarded Certificate of Merit for Best Sustainability Projects. Dilmah considers receiving Best Corporate Citizen Sustainability Award 2020 an important milestone in its journey as a truly sustainable brand with a purpose beyond profit.
This article was also published in
Ceylon Today